Professor Jianqing Gao was elected to the editorial board of Expert Opinion on Drug Delivery
2022-02-23
|
药学院英文网
Expert Opinion on Drug Delivery recently announced its new editorial board. Uday Kompella from the University of Colorado is the chief editor of the editorial board, and 32 experts from all over the world are the editorial board members, including Robert Langer from the Massachusetts Institute of Technology and Nicholas Peppas from the University of Texas. Professor Jianqing Gao from Zhejiang University served as the editorial board of this year, which is the first time that an expert from the Chinese mainland has joined the editorial board of this journal, indicating that China's research impact on drug delivery is increasing and has been recognized by international peers. Huile Gao, a professor from Sichuan University, was also selected.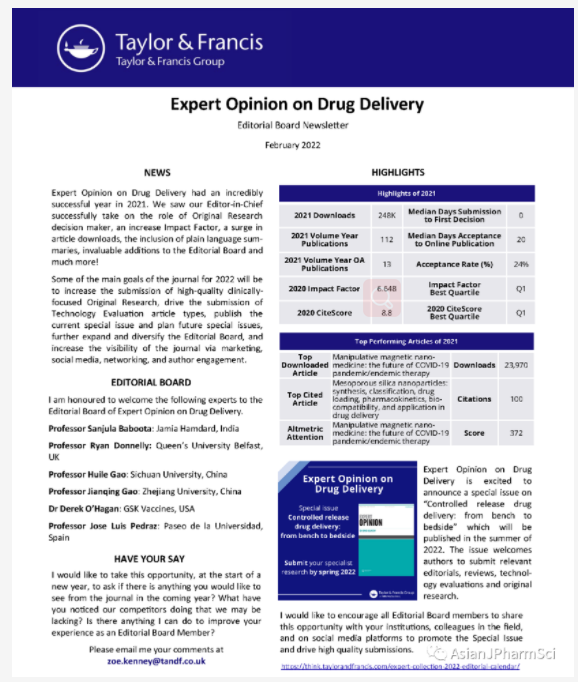 Expert Opinion on Drug Delivery, founded in 2004, is a classic journal in the field of Drug Delivery. The journal is a MEDLINE-indexed peer-reviewed journal with a 2020 impact factor of 6.648. The accepted articles cover all research aspects of drug delivery, from initial concepts to potential therapeutic applications and eventual relevance for clinical use. What distinguishes this journal from other journals is that each article should be combined with the author's own expert opinions on the current situation and development scope of the relevant field, so as to provide readers with more thoughts.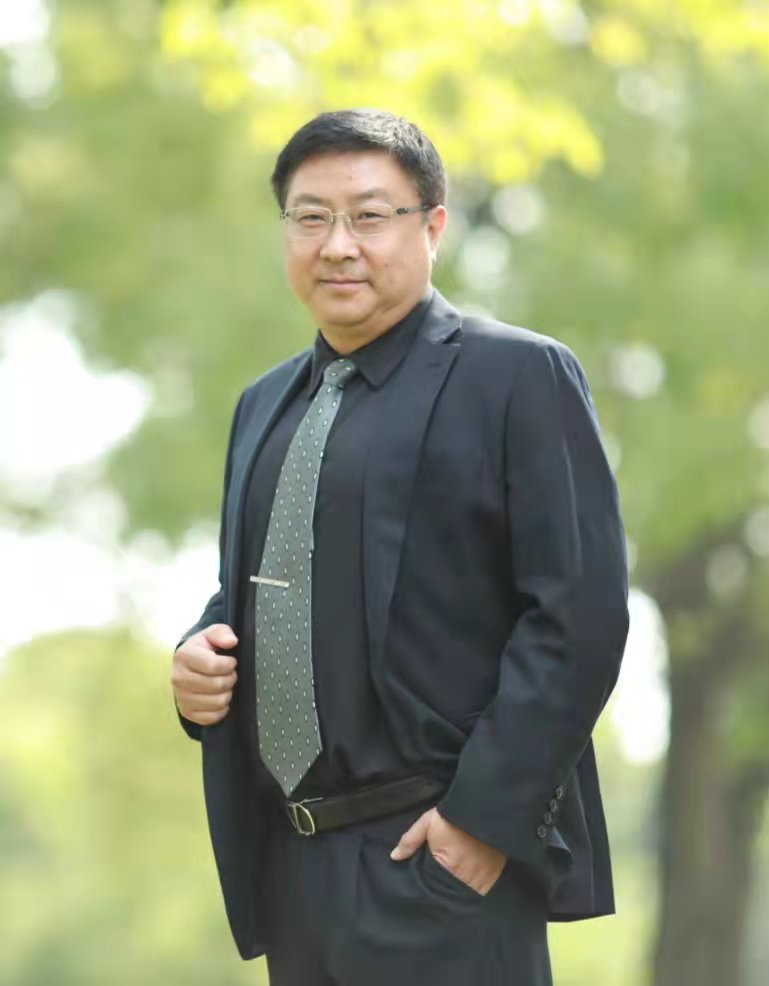 Dr. Jianqing Gao, Distinguished Professor of Qiushi, Zhejiang University, Vice Dean of Innovation Medicine Research Institute of Zhejiang University (Hangzhou), Director of Institute of Pharmaceuticals Zhejiang University, Deputy Director of National and Local Joint Engineering Laboratory of Pharmaceuticals, Deputy Director of Zhejiang Key Laboratory of Antitumor Drug Preclinical Research, Deputy Director of Dr. Li Dak Sum and Yip Yio Chin Center for Stem Cell and Regenerative Medicine, Distinguished Professor of Osaka university, National drug evaluation expert. The research areas of Dr. Jianqing Gao include stem cells as TDDS and new agents for transdermal delivery. Dr. Jianqing Gao presided over the major key projects form Ministry of Science and Technology and the National Fund, established three school-enterprise research and development centers. Dr. Jianqing Gao participated in the compilation of more than 10 textbooks and English monographs, published more than 260 academic papers and has been selected as the Highly cited Scholar of Elsevier China for six consecutive years. Moreover, Dr. Jianqing Gao is also the associate editor of Asian Journal of Pharmaceutical Sciences and Modern Applied Pharmacy of China, the editorial board member of 10 professional journals at home and abroad.
19

2022.08

19

2022.08

11

2022.05

11

2022.05

23

2022.03

09

2022.03