Researcher Xuesong Liu won the "2021 Chinese industry-university-research Cooperation innovation Award"
2022-03-02
|
药学院英文网
Recently, Xuesong Liu, the Researcher of College of pharmaceutic science, Zhejiang University and Deputy Director of the Institute of Modern Chinese Medicine Zhejiang University, won the Innovation Award of China industry-university-research Cooperation in 2021. The award is approved by the Ministry of Science and Technology and the State Office of Science and Technology Awards, and established by China Industry-University-Research Institute Collaboration Association.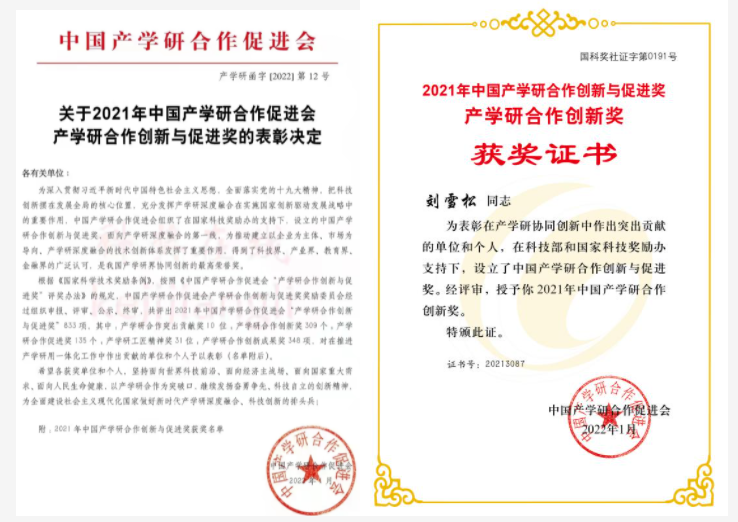 Xuesong Liu is the Researcher and doctoral supervisor of College of pharmaceutic science, Zhejiang University, professor of Qiushi Special Technical Innovation, and leading talent of the National High-level Talents Special Support Program. His research interests include: modern pharmaceutical engineering and pharmaceutical intelligent manufacturing, integration of the new generation of pharmaceutical information technology and advanced pharmaceutical technology, quality control technology of the pharmaceutical and massive health industry chain, new pharmaceutical technology and major equipment technology, TCM creation and massive health product development based on high-quality and effective natural products.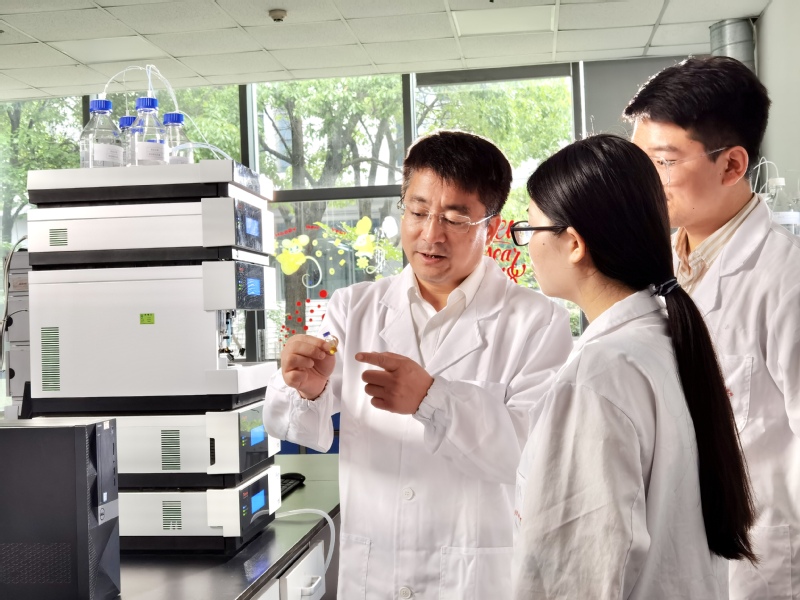 Encouraged by the transformation mechanism of scientific and technological innovation achievements of Zhejiang University, Xuesong Liu established a leading innovation team for advanced pharmaceutical manufacturing and information fusion to carry out technological innovation and industrialization promotion. Based on intelligent pharmaceutical manufacturing, Xuesong Liu focused on high-frequency, generic and universal supporting technologies and system equipment. Xuesong Liu carry out fruitful research and industrialization promotion in multi-disciplinary fields such as process analysis, pharmaceutical automation, informatization and whole-process quality control, and accelerate the transfer of scientific and technological achievements to local and industrial areas by innovative modes of government-industry-university-research-application.
In recent years, Liu Xuesong entered into pharmaceutical enterprises, organized in-depth academic discussions between enterprises and universities, and promoted the integration of technologies and communications between industries. He united Kanion Pharmaceutics, Yangtze River Pharmaceutical Group, Jiuzhitang and other modern pharmaceutical enterprise to share and participate in the Ministry of Industry and Intelligence to promote new pattern application, industrial transformation and upgrading. He has undertook more than 30 items form the Major Drug Discovery of Ministry of Science and Technology at national and provincial level, built more than 180 pharmaceutical digital production line and several intelligent demonstration plant, forming a large number of relevant industry cases, which will serve as a good demonstration for the transformation of scientific and technological achievements and promote the industry-university-research cooperation.
11

2022.05

11

2022.05

23

2022.03

09

2022.03

02

2022.03

23

2022.02